Jack and Friends is a animated series by Ramahfool the creator of Thomas The Trackmaster Show and this series takes place on a red engine named Jack and he is the number 1 engine like Thomas in Thomas and Friends.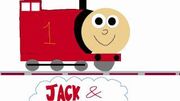 Thomas The Trackmaster Show, and other series too on youtube too. it's unknown when the next episode will come but you can ask ramahfool if you want too be in the cast too. Ramahfool hasn't made a Jack and Friends episode for a long time so if you too bring the show just tell Ramahfool. The first episode was orignally uploaded on RamahScot sman but since ramahfool announced that Jack and Friends will become a ramahfool series he removed the video from RamahScotsman to his original channel.
Episodes:
A Hero in Need (2010)
The Naughty Boys (2010)
Specials:
The Christmas Heroes (coming soon)
Community content is available under
CC-BY-SA
unless otherwise noted.