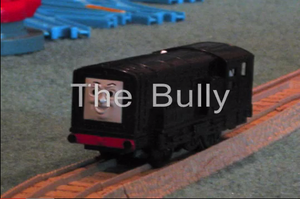 The Bully is the 12th episode of Thomas the Trackmaster Show. It is the last episode of the show for 7 years.
Characters
Edit
Thomas
Henry
Gordon
James
Percy
Whiff
Billy
Stanley
Diesel
'Arry and Bert
Den
Dart
Victor
Kevin
Sir Topham Hatt
Edward (cameo)
Toby (cameo)
Emily (cameo)
Duck (cameo)
Donald and Douglas (cameo)
Mavis (cameo)
Murdoch (cameo)
Annie and Clarabel (cameo)
Cranky (cameo)
Locations
Edit
Tidmouth Sheds
Sodor Steamworks
The Dangerous Bridge
Sodor Dieselworks (mentioned)
The Scrapyards (mentioned)
Ramahfool: Thomas, Henry, Gordon, James, Percy, Whiff, Stanley, 'Arry, Sir Topham Hatt, and the Narrator
ScruffyEngine: Diesel and Billy
thenewtrainboy54: Victor and kevin
AckleyAttack4427: Den
jonahfool: Bert
BenJaguar27: Dart
Diesel:"Hey You!"
Percy:"Who, Me?"
Diesel:"Yeah You! Get over here!"
Community content is available under
CC-BY-SA
unless otherwise noted.