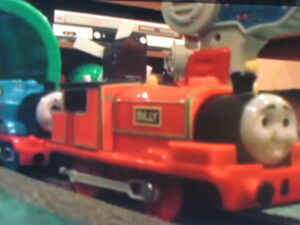 The Donut Sneakers
is the fifth episode of Thomas the Trackmaster Show.
Its a hot day on Sodor and Billy arrives and Thomas takes Billy to get some donuts and disguised as Edward and they get throun in jail
Characters
Edit
Locations
Edit
Henry's Tunnel
Coal Mine
The Windmill
Brendam Docks
Ffafaquar Station
The Donut Shop
In one scene of Part 2, there is a black ant during the part when Thomas sings; due to this, Ramahfool refers to it as the donut ant, and it became a trend among Ramahfool's fans.
Flyingscotsmanstudio (Now known as ScruffyEngine) originally uploaded a redub doing the episode. Unfortanly when TheWaterBoy132 hacked flyingscotsmanstudio's account the redub was removed back in December 2010.
Community content is available under
CC-BY-SA
unless otherwise noted.